Advantages:
Breaks more clods faster than discing. Less tilling of the soil – lower cost per acre. Faster flooding of rice fields. Improved water control. Uses less water during growing season. Improved watergrass control. Can reduce the number of aerial applications. Easier harvesting of downed crops. Applies several materials in one pass. Exact placement of fertilizers in relationship to the seed, both liquid and dry. Farmer reports increased yields.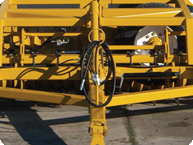 Options:
Rear Width Axle Lift; No Axle Lift; 36" Pipe; 42" Pipe; Double Tool Bar; Folding Tongues; Front Swept Fertilizer Knives; Stainless Steel Dry Fertilizer Box; Tanks for Liquid; Kits.
See it in action!
www.youtube.com/watch?v=ZUpUpZAs4Fg
Specifications:
Implement Widths: 9' to 26'
Bucket: Lengthwise Axle Lift; 30" Pipe; Mud Scrapers; Single Tool Bar with 1-1/4" Coil Shanks; 5/8"
Alfalfa Points with Chrome Tip.
Bearings: 2-15/16" or 3-7/16 Four-Bolt Flange