Prior to World War II, Robert Ziegenmeyer worked for Randolph Machinery.
Robert Ziegenmeyer – 1946
After the bombing of Pearl Harbor Robert enlisted in the Navy. While in the Navy he was stationed on a submarine working on the hydraulic systems. Shortly after World War II Robert returned home to Sutter, where he raised alfalfa and bought a GMC 10 wheeler, lengthened the frame and used it to haul rice. A year later he gave in to his desire to create and decided to open his own shop.
Sutter Welding & Equipment Company was founded by Robert Ziegenmeyer in 1946. Robert's son Arden joined the company in 1971 as the vice president. Shortly after, in 1974, Robert's brother Bill came on as the plant manager. By this time SWECO was a proven leader in the designing and manufacturing of exotic industrial and farming equipment for specialized applications. Around the same time SWECO was also making a name for itself with the manufacturing of its high quality custom hydraulic cylinders. Robert Ziegenmeyer was presented with the 1980 California Rice Industry Award for his numerous designs and changes in designs he had made in the rice farming equipment industry.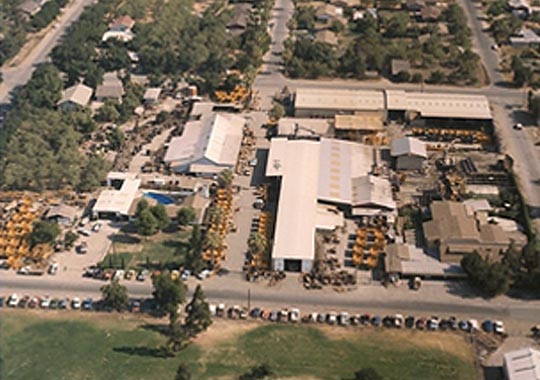 Palm Street Location since 1946 and currently our home of operations.
Robert's grandson, Joe Ziegenmeyer, joined SWECO in 1989 and later became president in 1997. Robert Ziegenmeyer passed away January 4, 2000 at the age of 79. Robert left control of SWECO to his wife, Maria, and two youngest sons, Michael and Robert Jr., who both joined the company in the mid 1990's. Joe and Arden both retired in 2006. Raymond A. Ziegenmeyer was appointed president in 2007.
Currently Michael Ziegenmeyer is President of the Company and Robert Ziegenmeyer is Chairman of the Board. Together they carry on the vision of their father, making the best equipment for the industry.
For over 70 years SWECO Products Inc. has been family owned and operated in Sutter, California. The same drive and determination that led Robert Ziegenmeyer to start Sutter Welding & Equipment Company over 70 years ago has been passed down through generations, and is the reason why SWECO Products Inc. is still the first name in dependability.